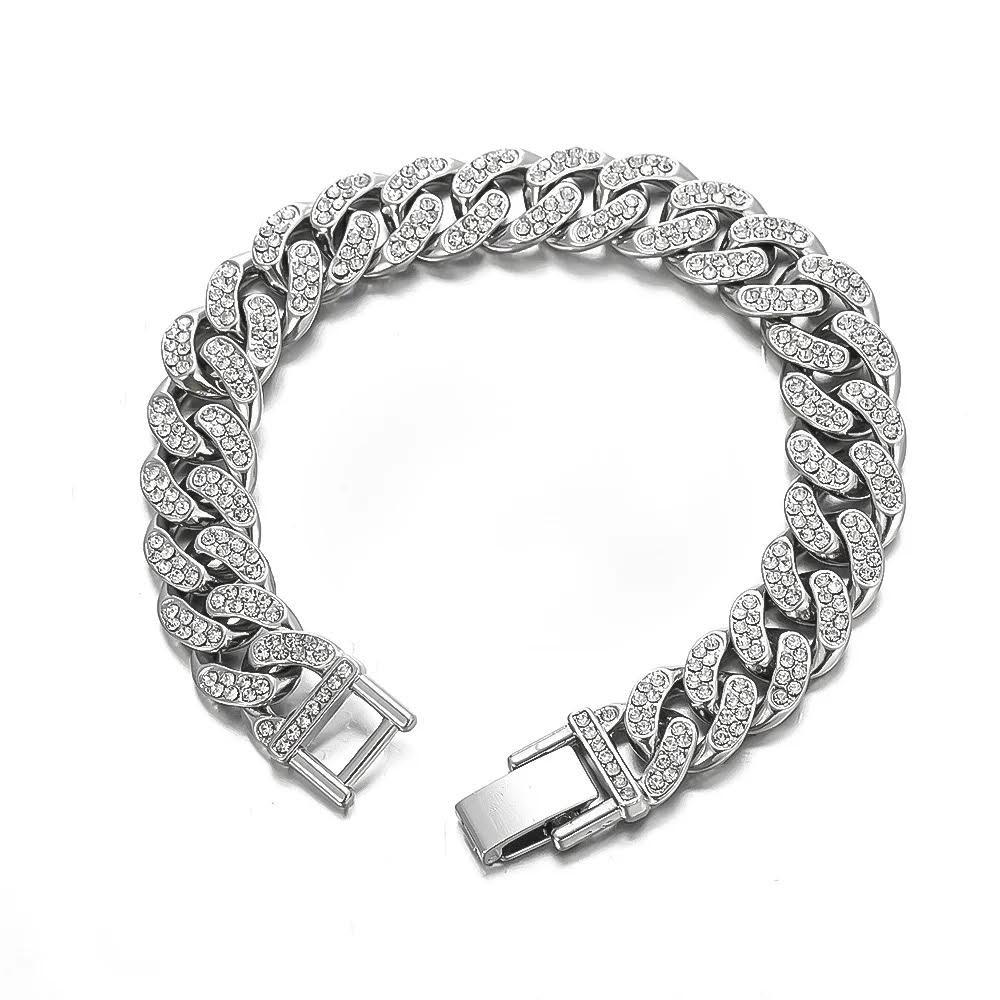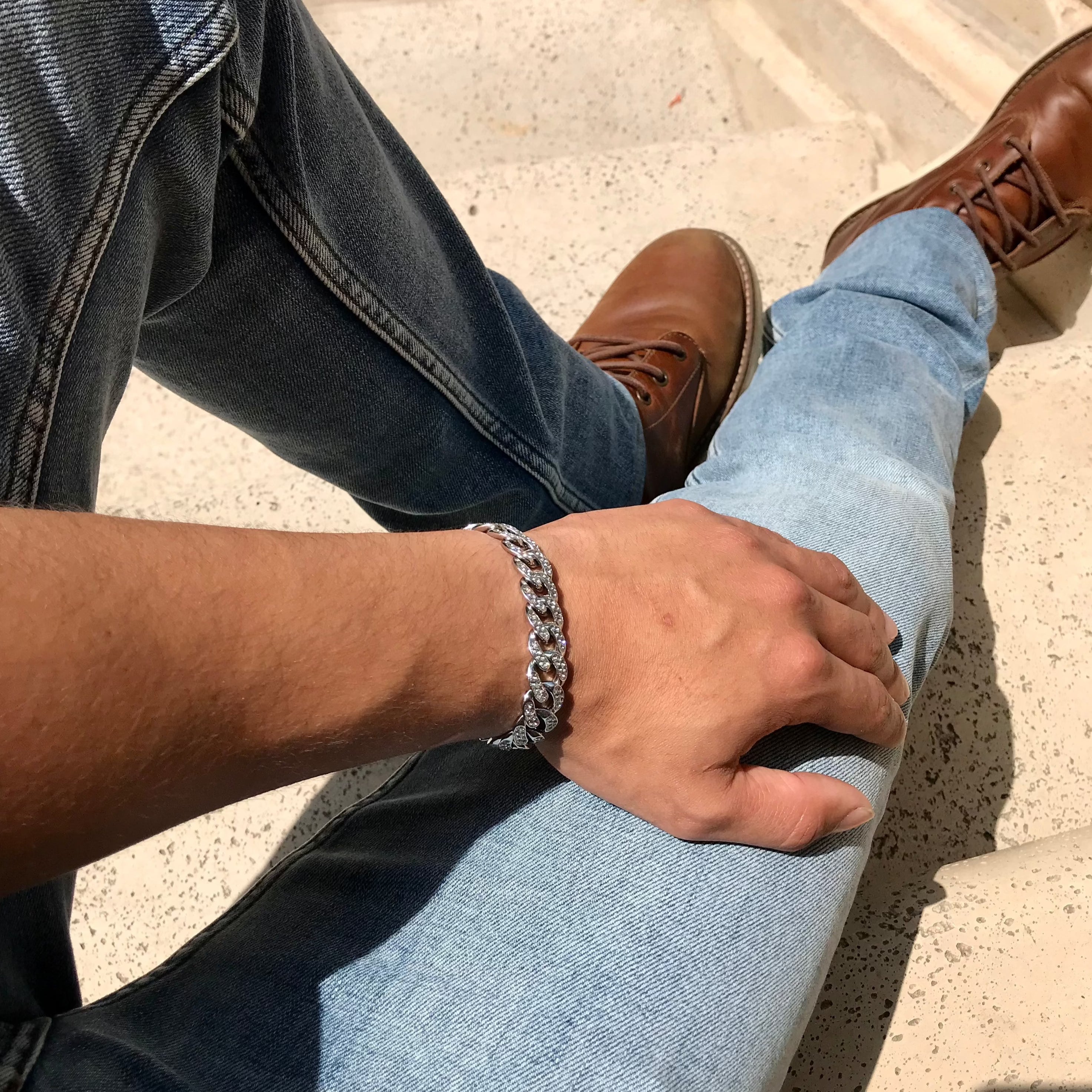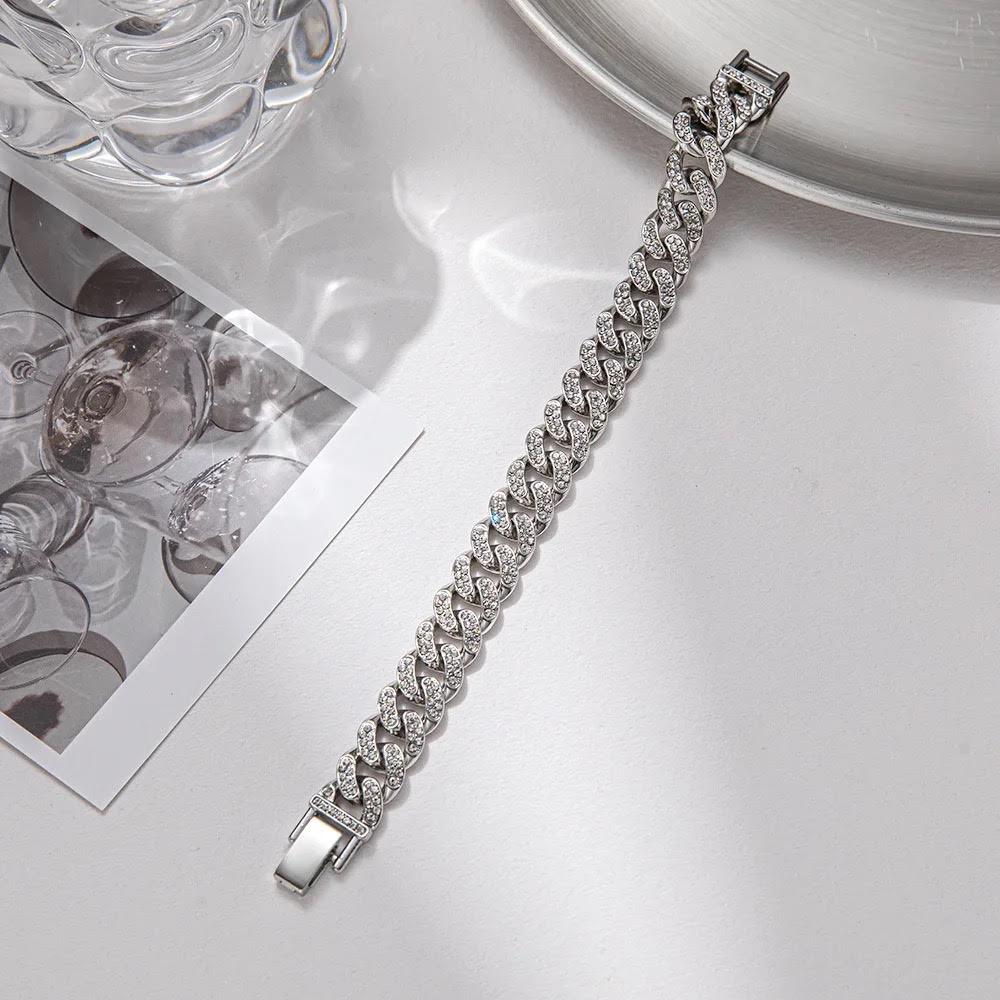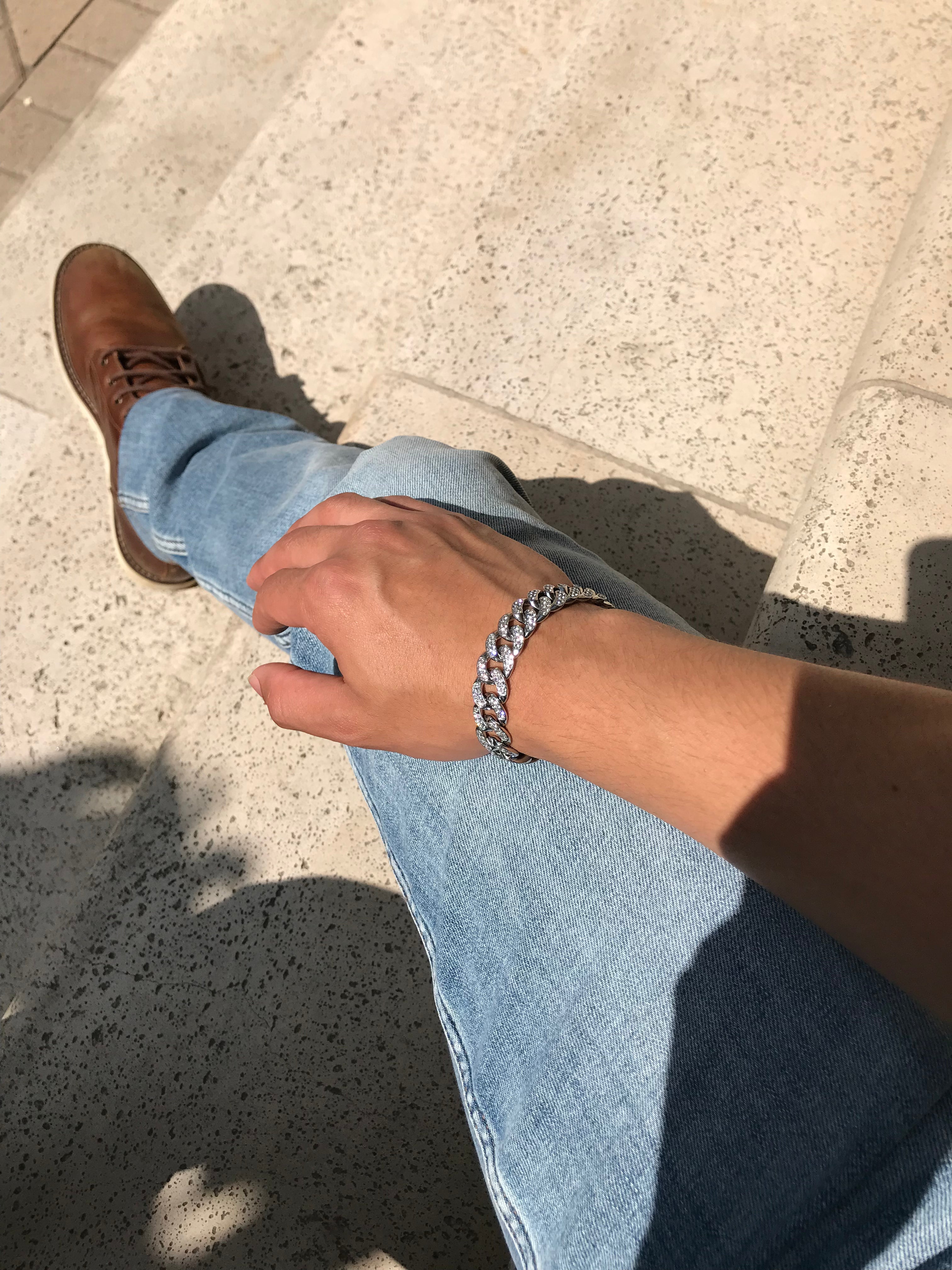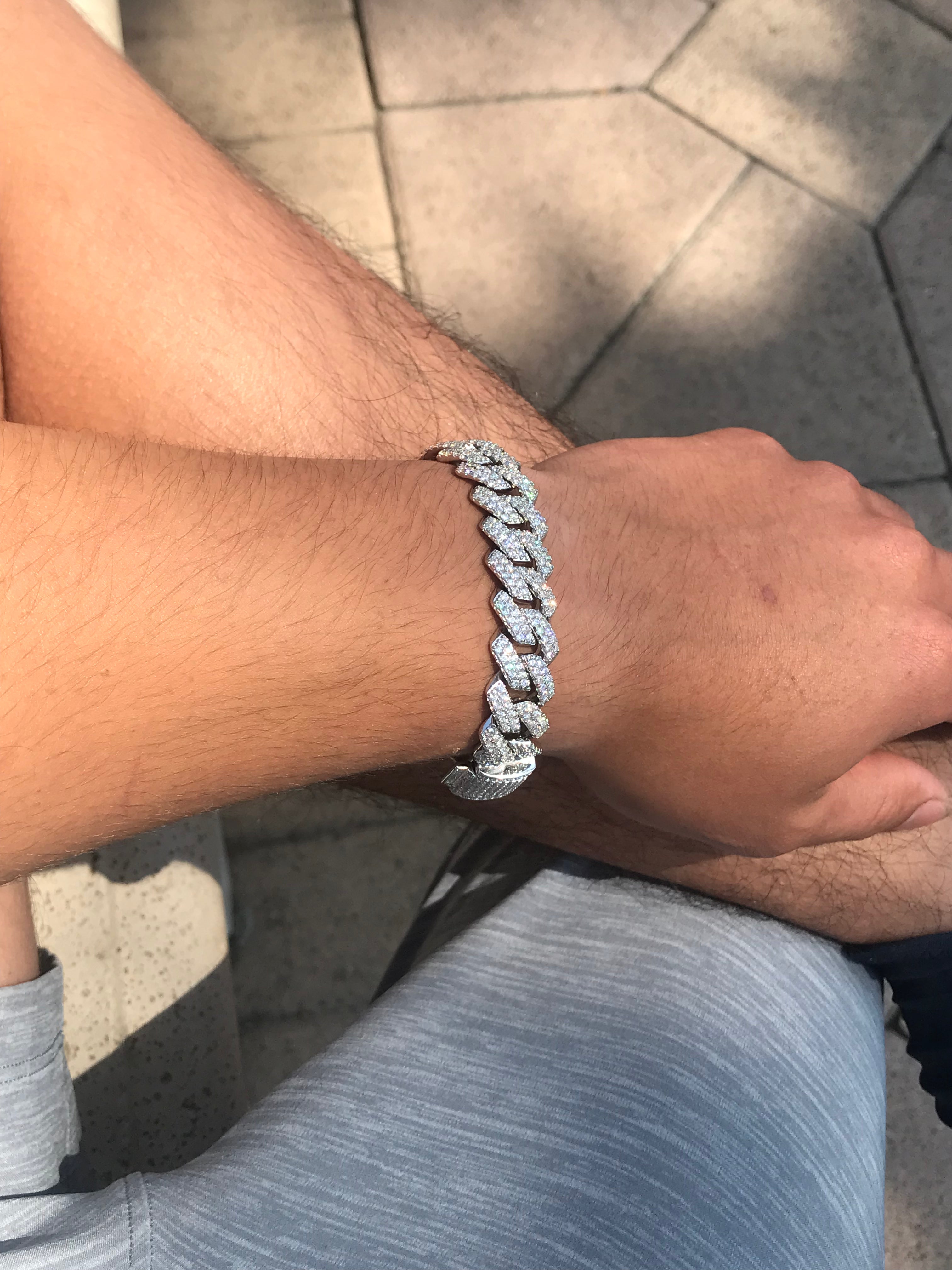 Titanium Iced Out Cuban Link Bracelet
Buy with confidence and return or exchange with ease with our free 14 day return policy.
---
A bold piece everyone should have in their collection. This Cuban Chain Bracelet showcases a remarkable balance of strength and refinement. Available in a rich 18k gold and classic silver finish over your choice of a durable titanium base. Free from undesirable materials such as brass and copper that tarnish and discolor rapidly. This in house bracelet was made to strike the perfect middle ground, bring the quality and build of luxury, high-end pieces and the affordability of everyday jewelry together to create a 1-of-a-kind piece unlike any other.
✧ Ships in: 24 Hours
✧ Size & Width: Pick from a fitted 7 and 8 inch length to fit you perfectly in a comfortable 13mm bracelet width.  Need Help with sizing? Feel free to review our sizing chart or a quick video to help with sizing  

Wear: Carefully crafted links provide a smooth and seamless feel against your skin, making it a joy to wear throughout the day without irritation. 
Specs: Available in a stunning silver and gold finish over durable titanium base, meticulously crafted with the utmost care and hand studded to ensure each gem is set correctly to allow your bracelet to draw attention and highlight any individual wearing it. 
✧ Irritation-free jewelry: Hypoallergenic, perfect for people with sensitive skin or metal allergies. 
 ✓ Water and Sweat Resistant ✓ Corrosion and Rust Resistant
Free Fast Shipping
Once we receive your order, we fulfill it & have it out within 24 Hours from Los Angeles, California.
Track and trace the whereabouts of your orders until delivery on our page!
Free Complimentary Gift Packaging
Receive your piece beautifully wrapped in carefully curated gift packaging, just for our customers.
Questions ? If you have any questions at all, visit our commonly asked questions page or send us a message on our live chat!
Can't Decide Which Material? Let Us Help
Features
Sterling Silver

Titanium Steel

Pros & Cons


 

Pros: Precious metal while more affordable than gold, Easy to stud and encrusted, allowing for gems to be set closer together giving the bracelet a "flooded" look. Durable to withstand everyday wear, Precious Metal: Retains value over time. Coated with a rhodium layer to protect it even more from everyday elements


Cons: Requires more upkeep vs titanium

 


Pros: Durable and scratch resistant, Lightweight for comfortable wear, Hypoallergenic, Endures years of wear

Cons: Difficult to encrust & stones may be further apart

Durability

Moderate

High

Metal


Precious 

Metal

Non-P

recious

Gems


Cubic zirconia

Cubic zirconia

Maintenance

Requires regular cleaning and upkeep

Minimal upkeep required

Allergy-Friendly
Yes
Yes

Value Retention
Holds value well
Value may diminish over time